History
For over 30 years HoneyBar has been producing the same delicious taste that people all over the world have come to love.


Frank Sardelis, a baker by trade, developed the first HoneyBar- a combination of sesame and honey only. The company grew from home based business to warehouse, to a larger facility. Frank's daughter Mary took over and expanded to 100 local stores and created 6 different flavours.

HoneyBar Products received Kosher Pareve Certification. The Pareve means that they contain no meat or dairy derivatives, have not been cooked or mixed with meat or dairy, nor come in contact with equipment that has processed meat or dairy foods. Factory upgraded to the next level of automation.

HoneyBar Products received Advantage HACCP Certification. Hazard Analysis and Critical Control Point (HACCP) is an internationally recognized food safety system that is used to help ensure the manufacture of safe food products.


HoneyBar received a BRC (British Retail Consortium) certification. The BRC Global Standards are a leading global safety and quality certification program, used throughout the world.


HoneyBar doubled its size by moving into a new purpose-built state-of-the-art facility to meet sales demand. The added space was a key enabler for HoneyBar to triple capacity from the previous facility. HoneyBar launched new flavours to meet the growing demand of our customers.


HoneyBar became a Gluten Free Certified Facility under the GFCO.


New flavour Almond Salted Caramel 40g bar launched in the Canadian market. New innovation also included the addition of snack bites in pouches.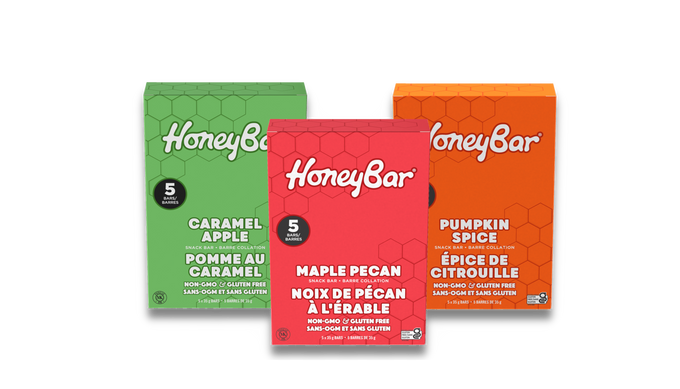 Three new flavours are launched in the Canadian Market - Caramel Apple, Maple Pecan and Pumpkin Spice.
Thank you from all of us at HoneyBar for your business!