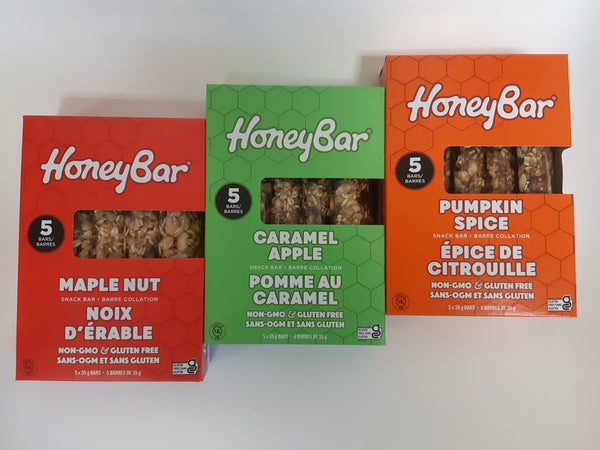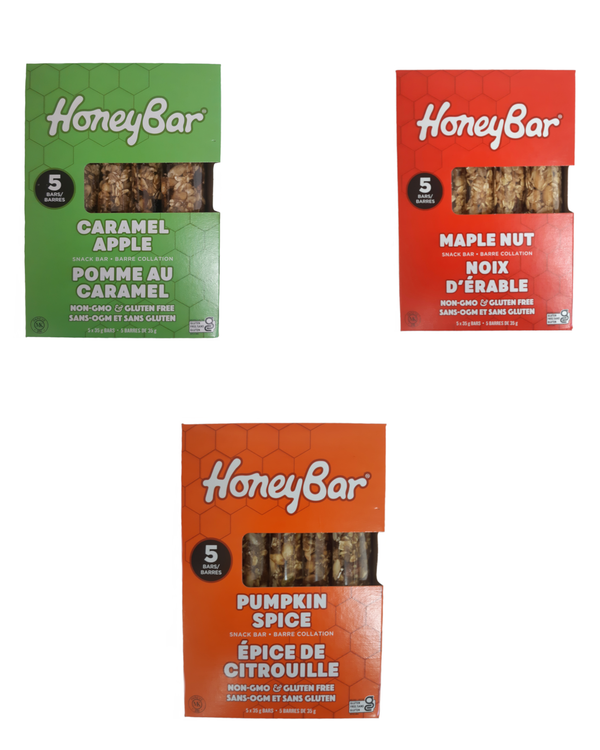 Custom New Flavours Variety Pack | 4 x 5 count
Mix and match 4 boxes of the new 5 count HoneyBar flavours! Choose from Maple Nut, Caramel Apple and Pumpkin Spice. 
INGREDIENTS • 5 x 35g
Maple Nut: Gluten free rolled oats, Peanuts, Sugars (honey, maple syrup), Almonds, Crisp brown rice, Pecans, Natural maple flavouring, Sea salt.
 May contain: Sesame, Tree Nuts, Eggs
Caramel Apple: Gluten free rolled oats, Sugars (honey), Pumpkin seeds, Raisins, Dried apples, Almonds, Crisp brown rice, Sea salt, Natural caramel flavouring
 May contain: Sesame, Tree Nuts, Eggs, Peanuts
Pumpkin Spice: Peanuts, Sugars (honey), Gluten free rolled oats, Pumpkin seeds, Almonds, Crisp brown rice, Spices, Sea salt, Natural pumpkin flavouring
 May contain: Sesame, Tree Nuts, Eggs